Serena Arghittu receives poster award
At the BioExcel Summer School on Biomolecular Simulations, Serena Arghittu presented her work in the field of theoretical biophysics and was awarded the poster prize.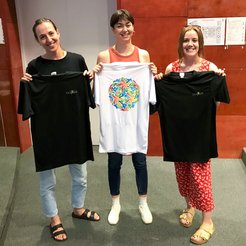 Congratulations to our PhD student Serena Arghittu! At this year's BioExcel Summer School, which took place from June 12 – 17 at the Science and Technology Park of Sardinia at Pula in Italy, Serena was selected for the poster award.
Serena holds a Master's degree in Physics that she obtained at the University of Trento in Italy. In October 2021, she started her PhD within the IMPRS on Cellular Biophysics, and joined the group of Roberto Covino at the Frankfurt Institute of Advanced Studies (FIAS) after her lab rotations in January this year.
Using molecular dynamics simulations and machine learning approaches, she investigates the activation mechanism of a bacterial receptor involved in cell growth and migration.