Timeline Application Round Fall 2023
Online Application
We will accept applications for the September 2024 program start in our fall call from November 13, 2023, to January 15, 2024, and in the spring call from mid-March to May 15, 2024.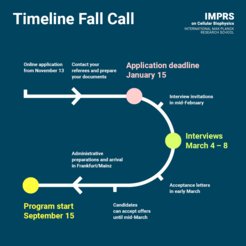 Referees
Although you do not necessarily need any reference letters to submit your application, we recommend that you nominate at least two referees to increase the quality of your application.
Application Interviews
Our application interviews for the current fall call will take place from March 4 to 8, 2024. As we will send out interview applications on short notice in mid-February, we kindly ask all applicants to keep these days free to be available for the interviews.
The interviews will be conducted virtually via video conferencing software.
Acceptance and Rejection Letters
Applicants will be notified in late March whether or not they are admitted to the program.
Program Start
The program start date for our new PhD students is September 15, 2024.
We recommend to arrive on site at least one or two weeks in advance in order to complete the necessary bureaucratic tasks, such as registering at the citizen's office, opening a bank account, and registering as a doctoral student at the university.