The Thesis Advisory Committee (TAC)
Four Mentors as Diverse as a Box of Chocolates
We have a belated Valentine's gift for our Ph.D. students: A dedicated supervision and mentoring concept through their individual Thesis Advisory Committee (TAC). The TAC consists of four mentors who can be as diverse as a box of chocolates. By providing regular feedback, the TAC ensures the progress of projects and supports our Ph.D. students in their professional growth and personal development.
Text: Katharina Käfer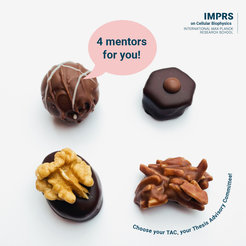 Each student in our program chooses four supervisors who may be of different genders, come from different research areas, be junior or senior group leaders, and pursue careers in academia or industry. Through its interdisciplinarity and diversity, the TAC opens up different perspectives, fosters scientific discussion, offers great networking opportunities, and supports students in achieving ambitious career goals.
After having settled in their new working group, the next milestone is already waiting for our students now: assembling a TAC tailored to their individual needs. While choosing their mentors, they also need to start thinking about their scientific projects and professional goals now.

We wish everyone good luck with this important step!