Our 2022 Recruitment Has Started!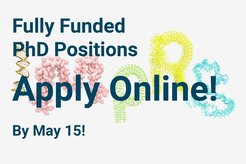 We are excited to announce that we welcome applications for this year's program start on September 15, 2022.
Around 20 dedicated group leaders from our faculty have open positions waiting for the next generation of outstanding researchers in the field of cellular biophysics.
Our online application portal is open until May 15, 2022, and we are looking forward to receive excellent applications from all around the globe.
Find more information about our application process here.